This gallery includes some of my earlier creations from a quite a few years ago. It is a mixed gallery which includes some rubber stamping, and some pieces like Paper Dominoes, Art Dolls, Inchies and Rinchies
I created using my Original Pixel Art Designs.
I think when you create them yourself,
you're never too old to play with paper dolls.
Below: Some more of my wacky paper art dolls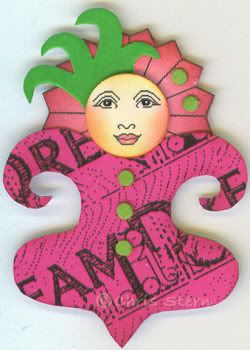 The playing pieces below are also some of my Pixel Art
and I made the 3 dimensional domino the same way I did all my other 3d pieces.
Below, more hand made 3d elements.
I just love making these and they are so super easy.
Some Pixel Art Inchies
I made the face on the following card from a mold I made using Fimo and some handmade paper clay. The square piece behind the face is embossed with various embossing powders. The background papers are my own handmade papers. My daughter loves purple and I made this one for her. :)